Good quality stylish headlight for vw for lavida
Specification:
Prodcut name:Auto head light
Model No.:H-LY-149
Application: For VOLKWAGEN lavida
The material of base:ABS
The material of mirror cap:PMMA,Glass,etc.
Power:55w(high beam light & low beam light)
headlight for vw for lavida picture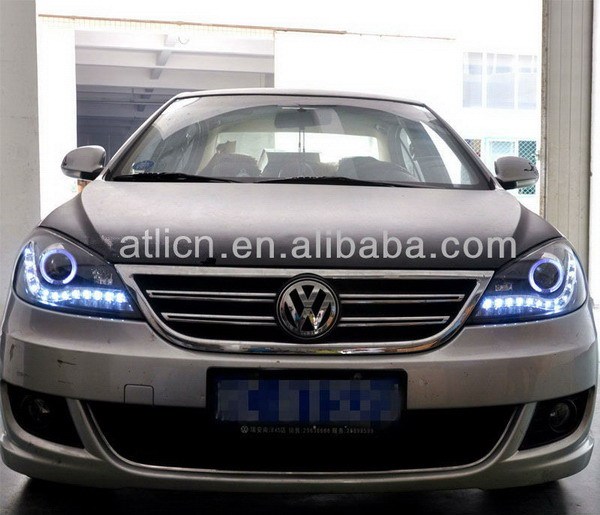 Notices:

1. All these headlamps have the same connections and wires with the original car. It's easy to install.
2. All these head lamps we carry currently are installed with no  bulb in its high beam and  low beam, because we leave that options to our customers.You can choose to install with Halogen light bulbs or HID Xenon light bulbs. You can also buy HID Xenon bulbs from us.
3. This item is one pair :Left lamp and Right Lamp.
We are professional in supplying car lamps for different models.Welcome to inquire us!!!
| | | | | |
| --- | --- | --- | --- | --- |
| MAKE | MODEL | YEAR | TYPE | LAMP TYPE |
| TOYOTA | AVANZA | 06-10' | TAIL LAMP | LED |
| TOYOTA | VIOS | 08 | HEAD LAMP | LED |
| TOYOTA | VIOS | 08 | TAIL LAMP | LED |
| TOYOTA | COROLLA | 07-'09 | TAIL LAMP | LED |
| TOYOTA | COROLLA | 11 | HEAD LAMP | LED |
| TOYOTA | COROLLA | '11 | TAIL LAMP | LED |
| TOYOTA | YAIRS | '05-'08 | TAIL LAMP | LED |
| TOYOTA | MYVI TRUNING |   | TAIL LAMP | LED |
| TOYOTA | MYVI |   | HEAD LAMP | LED |
| TOYOTA | VIGO |   | TAIL LAMP | LED |
| TOYOTA | HILANDER | 2008 | TAIL LAMP | LED |
| TOYOTA | PRADO |   | TAIL LAMP | LED |
| TOYOTA | LAND CRUSIER | 2012' | TAIL LAMP | LED |
| LEXUS | GX470 |   | HEAD LAMP | LED |
|   |   |   |   |   |
| HONDA | ACCORD | '08-'11 | HEAD LAMP | LED |
| HONDA | ACCORD | '08-'11 | TAIL LAMP | LED |
| HONDA | ACCORD | '08-'11 | TAIL LAMP | LED |
| HONDA | CRV | 2012 | HEAD LAMP | LED |
|   |   |   |   |   |
| MITSUBISHI | LANCER | 2010 | HEAD LAMP | LED |
| MITSUBISHI | LANCER | 2010 | TAIL LAMP | LED |
| MITSUBISHI | PAJERO SPORTS |   | TAIL LAMP | LED |
|   |   |   |   |   |
| NISSAN | TEANA | 2008 | HEAD LAMP | LED |
|   |   |   |   |   |
| HYUNDAI | IX35 | 2010' | HEAD LAMP | LED |
| HYUNDAI | IX35 | 2010' | TAIL LAMP | LED |
| HYUNDAI | SONATA | 2011 | HEAD LAMP | LED |
|   |   |   |   |   |
| VOLKSWAGEN | TIGUAN |   | HEAD LAMP | LED |
| VOLKSWAGEN | GOLF6 |   | TAIL LAMP | LED |
| VOLKSWAGEN | GOLF6 | 2008 | HEAD LAMP | LED |
|   |   |   |   |   |
| GMC | 2000 | 06-'10 | TAIL LAMP | LED |
| CHEVROLET | CRUZ | 2010 | HEAD LAMP | LED |
| CHEVROLET | CRUZ | 2010 | TAIL LAMP | LED |
| CHEVROLET | CAPRESS | 2006 | TAIL LAMP | LED |
|   |   |   |   |   |
| FORD | CROWN VICTORIA |   | TAIL LAMP | LED |
|   |   |   |   |   |
| PROTON | GEN2 | 2008 | HEAD LAMP | LED |
| PROTON | GEN2 | 2008 | TAIL LAMP | LED |
| PROTON | WIRA |   | TAIL LAMP | LED |
| PROTON | WIRA |   | HEAD LAMP | LED |
| PROTON | SAGA |   | TAIL LAMP | LED |
| PROTON | WAJA |   | TAIL LAMP | LED |
| PROTON | WAJA |   | HEAD LAMP | LED |
| PROTON | WAJA |   | TAIL LAMP | LED |
headlight for vw for lavida