Universal useful winch motor specification
winch motor specification product description:
1200Lb/540Kg hand winch for pulling boat/vehicle onto the trailers.Strong steel cable?and zinc Hook.?Meet?or exceed J1853 & CE standard.
Specification:
 Item No.:
TW2122
 Rated Capacity:
1200LB/540KG
 Gear ratio:
?4:1
 Ratchet Type:
two way with neutral
 Finishing available:
zinc plated(EDC/dacromet/powder coated available)
 Strap size:
5/32 inch x20 feet?,with zinc hook
 Package:
colored box/pc
 Qty/20GP:
4060pcs
       Winches can be installed on automobiles ranging from cars to trucks. These winches are heavy duty and are either manual crank winches, in which the operator cranks in a circular motion to reel the winch cord up, or electric winches, which operate with electricity or a battery to reel the winch cord up. These winches can be used to pull out other cars that are stuck, or to pull out the car with the winch, if it is stuck itself. Winches installed on automobiles can also pull pieces of equipment or trailers behind the automobile at a slow speed, or help to remove brush, stones or other large, heavy objects to which the winch cord is connected. 
winch motor specification picture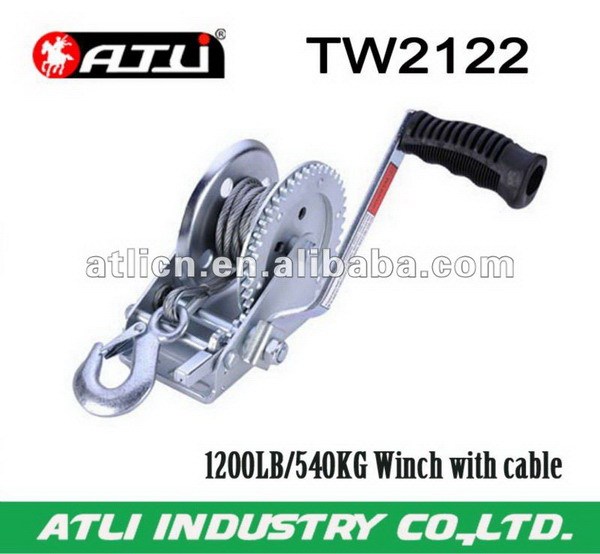 winch motor specification